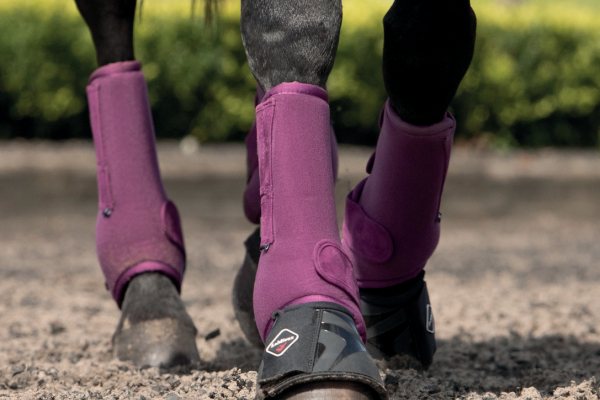 Absorbine Saddlery & Equipment
Noun
1.
saddlery

-

gear

for

a

horse

stable gear, tack

b

it

-

piece

of

metal

held

in

horse's

mouth

by

reins

and

used

to

control

the

horse

while

riding;

"the

horse

was

not

accustomed

to

a

bit"

caparison, trapping, housing

-

stable

gear

consisting

of

a

decorated

covering

for

a

horse,

especially

(formerly)

for

a

warhorse

cinch, girth

-

stable

gear

consisting

of

a

band

around

a

horse's

belly

that

holds

the

saddle

in

place

appurtenance, paraphernalia, gear

-

equipment

consisting

of

miscellaneous

articles

needed

for

a

particular

operation

or

sport

etc.

hame

-

stable

gear

consisting

of

either

of

two

curved

supports

that

are

attached

to

the

collar

of

a

draft

horse

and

that

hold

the

traces

harness

-

stable

gear

consisting

of

an

arrangement

of

leather

straps

fitted

to

a

draft

animal

so

that

it

can

be

attached

to

and

pull

a

cart

headgear

-

stable

gear

consisting

of

any

part

of

a

harness

that

fits

about

the

horse's

head

martingale

-

a

harness

strap

that

connects

the

nose

piece

to

the

girth;

prevents

the

horse

from

horse blanket, saddle blanket, saddlecloth

-

stable

gear

consisting

of

a

blanket

placed

under

the

saddle

yoke

-

stable

gear

that

joins

two

draft

animals

at

the

neck

so

they

can

work

together

as

a

team

2.
saddlery

-

workshop

where

a

saddler

works

workshop, shop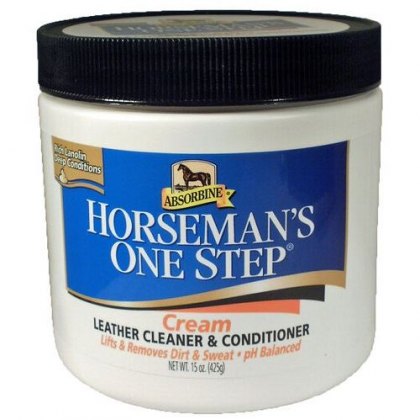 Horseman's One Step Cream
Horseman's One Step is a convenient, one-step leather cleaning and conditioning cream. Designed for the busy equestrian, it requires no water and combines cleaning and conditioning in one step. It is great for use on harnesses, saddles, halters, bridles, reins, boots, belts, luggage, shoes, sporting goods, handbags, and most leather garments. Three cleaning agents remove dirt, sweat, and...
Horseman's One Step Spray
Horseman's One Step in a brand new super easy-to-use spray cleans and conditions leather and synthetic leather products. The non-aerosol micro-spray allows the horsemans one step to penetrate crevices to lift out dirt and grime without dripping, then dries fast so tack can be used or put away immediately. The fine mist of the horsemans one step spray provides even coverage and sprays from any...