Charles Owen

Charles Owen Categories
Charles Owen Products
Charles Owen Adventura Skull
Charles Owen lightweight Jockey skull with reinforced ventilation holes to meet both PAS015 and BSEN 1384. It features removable machine washable inner pads, and a Coolmax lining which wicks moisture away from the skin, and a padded black leather harness. Very popular for Endurance Riding, Eventing and the regular rider. (Coolmax is a registered trade mark of Dupont) Extra details: Comes with a free...
Charles Owen Competitor Skull
The Competitor is deep fitting jockey skull that has been designed for a rounder head shape and could be the answer for those riders who have experienced problems with fit. The Competitor features an adjustable soft nylon harness that crosses at the back for extra stability.
Charles Owen Young Riders Hat
Charles Owens' popular choice for the younger rider, offering the higest level of protection. This traditionally Styled riding hat is covered with a short pile velvet, and comes in it's own Charles Owen carry-box. Extra details: Kitemarked to PAS015, BSEN1384 also SEI ASTM F1163 in sizes 63/8 - 73/4 Available in Black and Navy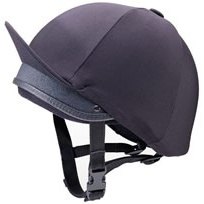 Charles Owen Young Riders Jockey Skull
Charles Owen Designed to appeal to the younger rider, but offering the same level of protection as the adult version. A lightweight slim-look skull with an easy fasten, quick release clip. Comes in it's own Charles and Owen carry-box, and complete with a free matt black jockey skull silk. Extra details: To PAS015 and BSEN 1384. Available in sizes 000 - 5 Details about sizes: Click here